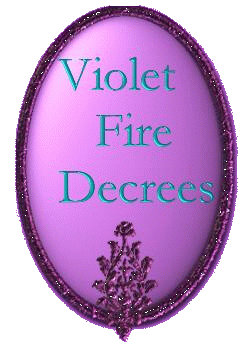 Here are some suggested statements, decrees, which you can use. They are out of the "Book of Ceremony and Ordered service"

LIVING WITHIN THE VIOLET FIRE
OH, THOU BELOVED ASCENDED MASTER SAINT GERMAIN, Divine example of Spiritual Freedom to our Earth, we love you!
SEAL! SEAL! SEAL us and the entire ten billion lifestreams evolving on our Earth, and every part of life, in a mighty PILLAR of Your VIOLET FIRE of LOVE and FREEDOM! BLANKET the EARTH and its atmosphere in living VIOLET TRANSMUTING FLAME so that every part of Life may live, move, breathe and have its being truly in that VIOLET FIRE of Your Love that sets them, our Earth and every living thing free right now, for the VIOLET FIRE of FREEDOM'S LOVE ALWAYS MANIFESTS PURITY, FREEDOM AND PERFECTION…and
"I AM" THAT VIOLET FIRE! (9X)
"VIOLET FIRE COME FORTH NOW.
BLAZE AND BLAZE AND BLAZE,
TRANSMUTE, TRANSMUTE, TRANSMUTE,
PURIFY, PURIFY, PURIFY,
EXPAND, EXPAND, EXPAND,
RESTORE, RESTORE, RESTORE!"

"
I AM a pillar of Violet Fire
stronger than any human experience." (3X)

"Blazing in, through and around my four lower vehicles the full momentum of the Violet Transmuting Flame, the most powerful aspect of Love, instantly transmutes all outstanding energy back into perfection.
"
I AM AT PERFECT PEACE! (3X)"

"In the name and by the authority of the mighty Presence of God I AM, I invoke the Flames of Protection, Purification and Transmutation to BLAZE through my physical, etheric, mental and emotional vehicle, my aura and my world, freeing me from the illusions of the lower self.
BLAZE THE VIOLET FIRE THROUGH MY BEING! (3X)
Place a sword of Blue Flame in my right hand, a shield of Violet Light in my left hand and encircle my being and world within a ring-pass-not of Cosmic Blue Light so that nothing may approach me that is less than the Pure Light of God! It is done, for I so decree it, as God's Most Holy Name, I AM, THAT I AM!
© The Bridge to Spiritual Freedom

This music will help enormously
to stimulate the Violet Fire visualizations.