The Lotus has always been a symbol of sacrifice and victory. Hence it is often used as a pedestal for Ascended Beings and Gods. Sacrifice means MAKING SACRED. It is the transformation from the lower expressions of imperfection into divine manifestation.
Then why the suffering and the severe tests? Partly due to the returning 'karma', and other reasons are to make you aware of your strengths and weaknesses. Because every human being is unique, you have to fulfill your divine plan: "Your reason for being". So there is also no reason to 'imitate' somebody you love or admire. Just be yourself, your perfect self. Your personality is not your perfect self. It is a shadow of what you can and will be if you aspire. Remember your free will choice is the key. You are only responsible for your own energy [thoughts, feelings, words and actions].
Your divine Self is your I AM Presence, your personal connection with God. Between your I AM Presence and your personality, your 'lower self', is your Holy Christ Self, the divine mediator. It is to this part of yourself, that you have to offer all your energies. The most difficult, but essential part is to FORGIVE. Forgive others, and forgive yourself. Only by forgiveness you set the misqualified [misunderstood] energy free. For ever. Let it go, ask beloved Kwan Yin to help you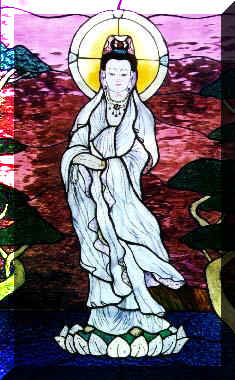 Beloved Kwan Yin.
LADY KWAN YIN:
"Beloved children of divine
love,
I deeply honor and treasure your beings, for they are the instruments through which forgiveness is precipitated into the Earth. As you listen to my words, may the mantle of mercy and compassion intensify around you. These qualities set you free from judgment, helping you to understand the many actions and reactions in your world.
Through this understanding, you will come to the realization that the balancing of the threefold flame is a unique ritual for each lifestream. To set your own household in divine order, you must discover the qualities within yourself, which require healing. It is up to you to find the threshold of this higher understanding, over which you may then step, to be initiated into the daily ritual of harmonizing your Christ flame. During this process, the flame of forgiveness, mercy and compassion will be of great assistance in your personal development. It will help you to perceive the activity of the waves of energy created by your actions and reactions, without allowing you to be caught up in them and swept away. From this objective point of view, you are then able to fully channel the violet fire of freedom's love, focusing your attention upon the work of creating a pure and peaceful atmosphere in, through, and around your four lower vehicles." [From: the Bridge Journal April 1995.